Does you group or team need help with teamwork, communication, problem solving, and/or leadership? Try one our challenge course!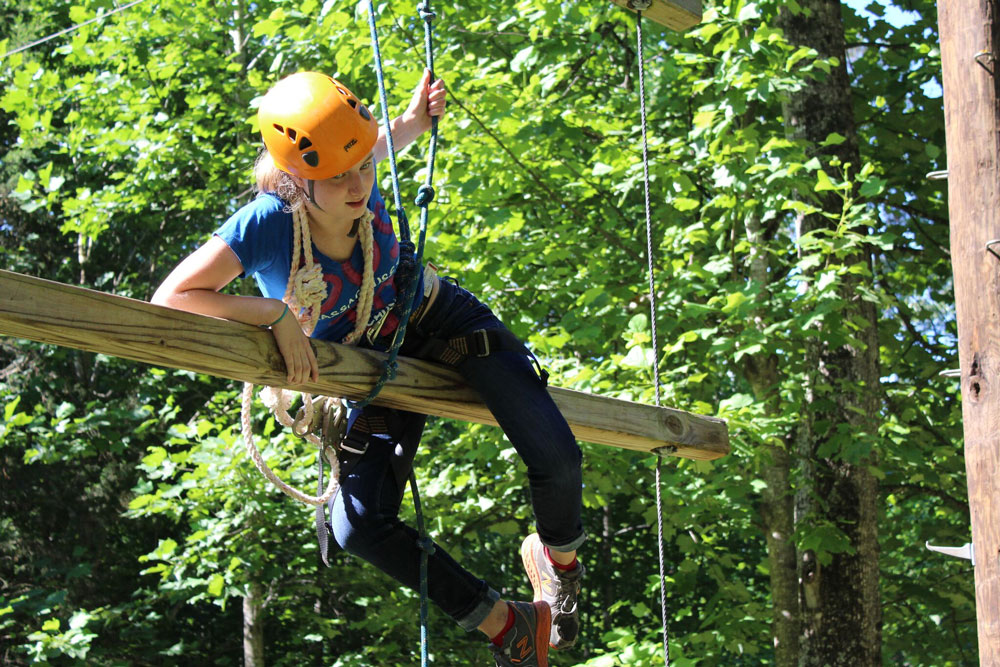 Why our Challenge Course?
We provide a wide variety of approaches and opportunities for learning.
We possess the ability to adapt and cater to the specific needs, goals, and/or objectives of different groups
We create an environment which is conducive to all learning styles.
Our program promotes personal growth and a better understanding of the importance of teamwork and trust.
Our program provides opportunity for continued and applied learning well beyond their day on the ropes course!
All activities are conducted in a safe environment, which strengthens individuals, promotes group bonding, and develops leadership skills.
Challenge Course Objectives:
Foster the ideals of mutual support, teamwork, communication, planning, organization, and the importance of individual member contributions and differences within a group.
Bring participants together in a new environment where they will share a common experience while working together.
Encourage group trust. Participants must rely on others, completing the course as a group and not on an individual basis.
Overcome personal fears of inadequacies or lack of confidence.
Encourage team and individual growth.
Promote feelings of personal confidence, accomplishment, responsibility, leadership, and self-worth.
Facilitate and improve goals setting and problem solving skills by individuals and by the group/team.
Encourage safe, appropriate risk taking in a caring environment.
Planning a Program
A variety of challenge course programs can be designed. Working with your group, the 4-H Center will design a program based on your group/team's goals, time frame, group size, and budget. The 4-H Center offers cooperation and team building programs for youth, adolescents, and adults. Both on-site and off-site programs are available. Programs conducted on-site at the 4-H Center's Challenge Course, consist of an outdoor recreation field, Low Challenge Course, 7 element-High Ropes course, 35' Climbing Wall, and Zip line. This course is physically, mentally, and emotionally challenging. All facilitation, instruction, and equipment are provided by the 4-H Center.
Low Challenge Course Eligibility Requirements
Anyone! We can work together to create a program that will be beneficial for ANY age group.
High Challenge Course Eligibility Requirements
Climbing Tower - must be 9 years or older.
High Ropes - must be 12 years or older.
Both annually inspected by Challenge Design Innovations. CDI is an accredidted Professional Vendor Member of the Association of Challenge Course Technology.
Group Pricing
Low Challenge Course - $150/per 15 people
High Challenge Course - $300/per 15 people (High Ropes Course or Climbing Tower)
Both - $400/per 15 people
Contact Heather Benninghove by phone 434-348-5444 or heathern@vt.edu to plan your next challenge course program!
Virginia SOL correlation
PE 3.4, 4.4, 5.5, 6.4, 7.4, 8.5, 9.4, 10.4
English - 3.1, 4.1, 5.2, 6.1, 7.1, 7.2
PH5, PH6, PS6, PS1, PS10
Oral Lang. 6.1, 6.2, 7.1, 3.1, 3.2