Holiday Lake 4-H Educational Center is located in Appomattox County, fourteen miles north east of the town of Appomattox. The property is located on beautiful Holliday Lake in the middle of the Appomattox/Buckingham State Forest. This location gives a wonderful opportunity to learn and enjoy the outdoors. There are several streams, many acres of forest and abundant wildlife. Holiday Lake 4-H Center is the ideal location to learn about nature and have fun too! The various workshops that are offered serve to enhance what has already been learned in the classroom, or to be an introduction to new objectives. All programs are correlated to the Environmental Science Standards of Learning. So whatever your needs are, a program can be planned to meet them-that's what makes our program special.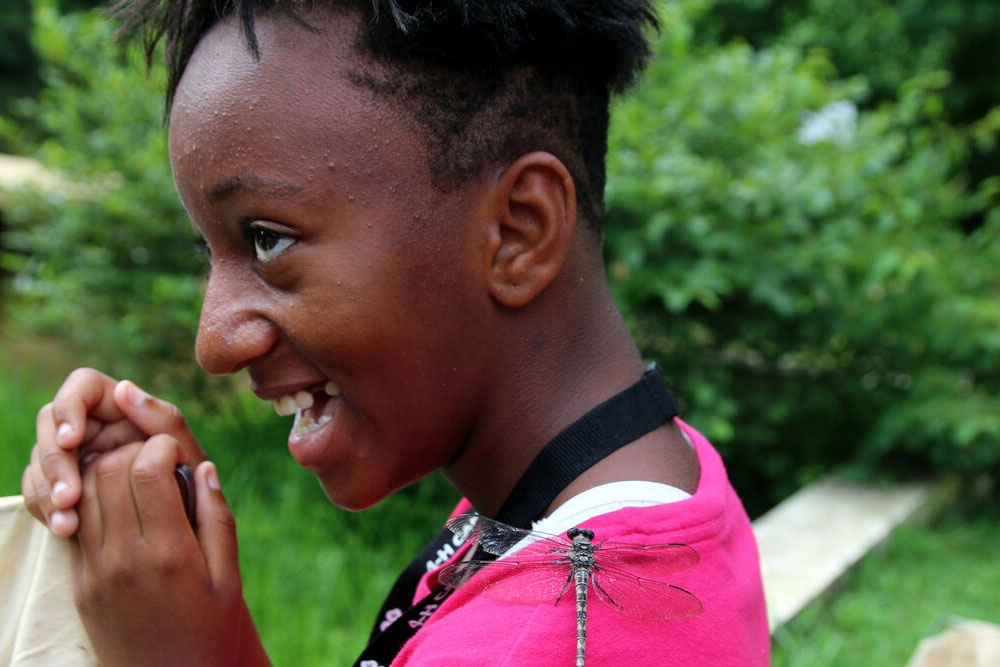 What is Natural Resource Education:
The Natural Resource Education Program is designed to offer educational opportunities in an outdoor setting. These activities center around a hands-on experience that teaches basic management, impact, and renewal of our natural resources. Our program is a fun way to reinforce what is being taught in the classroom by providing hands on activities outdoors.
If you are a person with a disability and desire any assistive devices, services or other accommodations to participate in the Workshop, please contact The 4-H Center no later than 5 days prior to the date assistance is needed between the hours of 8:00 a.m. - 4:30 p.m. Monday through Friday at 434-248-5444/TDD* number 800-828-1120.
Why Natural Resource Education at Holiday Lake?
Whether you are looking for quality programming to support your classroom curriculum, an educational outing for your particular group, or just a fun-filled retreat, Holiday Lake 4-H Educational Center can meet your group's needs in Natural Resource Education. Program Options are available from one to three days. So what are you waiting for?! If you would like more information on the Natural Resource Education Program give us a call at (434) 248-5444 or email Levi Callahan, Program Director at levic93@vt.edu. We will be happy to set a date for you!
How to Schedule a Program or Get Further Information
If you desire more information or wish to make a reservation, contact Levi Callahan, Program Director, at 434-248-5444 or levic93@vt.edu. Advertise your trip with other teachers or co-workers and send information home. Obtain several adult volunteers (always plan big!), complete any required forms such as health/insurance, and plan to have a great learning experience! Contact me if there are any special arrangements to be made due to handicap or other reasons.
Year Round Facilities
Comfortable sleeping for 120 (heated)
Conference room (seating for 50 without tables-40 with tables)
250 capacity dining facility
Small dining hall with seating for 40
Kitchen facilities for small groups
Complete meal service
Additional recreational/educational facilities
Meals & Prices
Holiday Lake 4-H Educational Center can provide meals for groups at a very reasonable price. Menus can be designed for your special needs by contacting our Food Service Manager. The following rates apply only for Natural Resource Education and are subject to change with advanced notice:
One Day Program, no meal provided $12.00; with lunch $20.00
Two Day Program, 3 meals provided $55.00; 4 meals $65.00
Three Day Program, 6 meals provided $95.00; 7 meals $103.00
Program Objectives
To develop an awareness and appreciation of the natural environment.
To develop basic scientific analysis and observational skills and subject areas
To provide hands-on-learning opportunities
To teach stewardship and current environmental issues facing all of us.
To assist teachers and other educators in the conducting of Natural Resources Education based programs.
Programs
Aquatic Ecology
Archery
Canoeing**
Entomology
Field Initiatives
Forest Ecology
Geology
Herpetology
High Challenge Course**
Low Challenge Course**
Mammalogy
Meteorology
Native American Studies
Night Hike*
Nocturnal Animals*
Orienteering
Ornithology
Owl Pellets**
Pioneer Life
Sensory Awareness*
Soil Studies
Water Chemistry
Wilderness Survival
Wildlife Ecology
* Only offered for over night programs.
**Additional Fee