March 13-18, 2022
Online Registration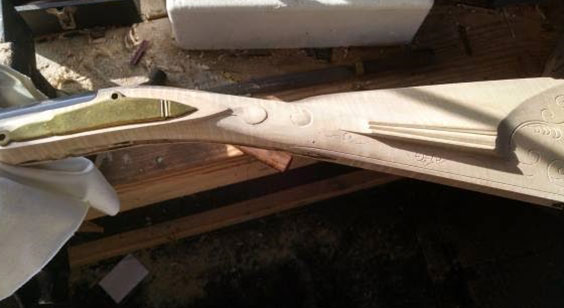 If you wish to receive information on our next Flintlock Rifle Workshop CLICK HERE!
Learn how to build your own custom Flintlock Rifle!
Rifle building experience not needed.
Instruction and kits provided by Rifle builder Jimmy Blanks.
Meals and lodging provided as part of this package.
Cost:
Rifle - $1,800.00
This covers all programming fees, instruction, the rifle kit, meals, and lodging.
The Rifle
Rifle kit choices are:
Lancaster Pennsylvania Rifle
Caliber - .45, .50, or .54
Barrel Length - 38" or 42"
Wooden Patch Box
Questions about the rifle email the instructor, Jimmy
About the Program
You will pay less for this workshop than you would pay a craftsman to build this custom rifle. The custom rifle you build is yours to keep.
Small class size with lots of instructor time - 4 to 1 student/teacher ratio.
Develop basic, beginner level flintlock rifle building skills.
Firearms will be assembled and capable of firing at the beginning of the class. The student will be instructed on shaping, rasping, sanding, carving, and staining the stock and filing and buffing of the metal parts.
Rustic but comfortable bunkstyle lodging. Linens not provided.
Meals and lodging the entire workshop time.
Schedule
Sunday
5:00-6:00 Welcome, Registration
6:00-7:00 Supper
7:00-9:00 Introduction, Overview and History
Monday- Thursday
7:30-8:30 Breakfast
8:30-12:00 Workshop Time
12:00-1:00 Lunch
1:00-5:30 Workshop Time
5:30-6:30 Supper
6:30-8:00 Evening Activities
Friday
7:30-8:30 Breakfast
8:30-12:00 Finishing up
12:00 Lunch
1:00-4:00 Finishing up
Special Information
This is an intensive course, come prepared to work! You take home what you put into it!
Rustic but comfortable bunk style lodging. Linens not provided.
A health form (no physical required), a list of items to bring, and other information will be sent to you.
Refund Policy
Meals and lodging fees are refundable; the kit will be shipped to you. You can choose to attend the next workshop at the meals and lodging rate. In the event there is a waiting list and a replacement is available the full fee will be refunded.
Full:
Nonrefundable: